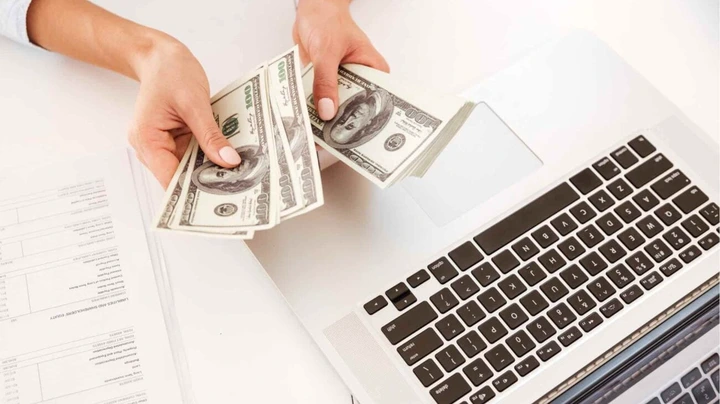 When we were thinking before about making money, we always thought it's related to some limited traditional offline ways. However, after the internet took over the largest part of our lives, more people are looking for other ways to help them make money online to boost their financial state.
But, you have to be very cautious when it comes to choosing the platform. There are many ways to make money online, some of them may be fake, so we will tell you everything about it. However, don't expect to make a huge amount of money so fast when it comes to online ways.
We're living a situation that we are staying at home more than going out for the first time. So, we have a lot of free time that would help you to make money online, check out these resources and websites.
1. Freelancing
Freelancing is one of the most famous ways to make money online, it also comes with a lot of options. If you decided to work online, there are many websites that are offering tasks that may suit people with different experiences and skills. You only need to sign up and create an account on these websites, browse through the opportunities, and find the one that fits your skill.
Some websites will ask you to create a skillset to list all your skills in, to be easier for employers to know what you can do so they contact you if they find what they are looking for.
If you're looking for a freelance opportunity, you can check:
You can make from 5$ to 100$ from these websites. However, keep in mind that you won't be paid unless you successfully completed the task the client gave you, and he approved it. That means that your task may get revised many times so they make sure it met their requirement before paying you. Some websites will require you to create a PayPal account to pay you by it.
2. Starting your own website
If you want to create a website but you don't know how to start, there is material online to assist you in starting your own website. Such as templates, domain, layout, and design.
When you get ready and done creating relevant content for your website visitors, take place in Google AdSense. Then, you will make money online whenever your visitors click on your website. And more clicks mean more money.
3. Affiliate marketing
Once you run your website, you have to select affliate marketing by letting-organisations put their links on your website. This partnership will make you make money online when your visitors click on these links.
4. Surveys, searches, and reviews
There are many different websites that offer money when you write reviews on products or services, take online surveys, or do online searches. To make the money, you need to detect specific data to them, such as your bank details. That's why you have to use this way with extreme caution.
Some websites might even require signing in with them before working on any project. The most important thing is to be careful from websites that offer you more money than usual. Be cautious when assessing the reputation of the site as a lot of them might be fake. Most websites boost companies showing cheques of payments that may have been provided to the mediator only.
5. Virtual assistantship
What is it to be a virtual assistant or (VA)? It means to work on managing all of the company requirements remotely from home. VAs are hired by clients who are too busy to handle and manage some aspects of their businesses.
To be a VA is to be a skilled professional working from home for businesses and provide administrative support. Email correspondence, researching, phone calls, appointment scheduling, writing, editing, marketing, booking, blog management, project management, graphic design, proofreading, social media management, and event planning are some of the major fields of the job.
Working as a VA requires some training and briefing at the beginning especially if you don't have experience in the field. However, if you have communications skills, and can use MS Office you can just sign up on some websites, for example:
6. Language translating
If you know more than a language can be a very useful skill that will also help you make money online. Many websites offer projects that need to be translated from one language to another, and the second language may be yours! These projects may be available in French, Arabic, Spanish, German, or any other language to be translated from or to English.
The best thing about this is that you can make it from anywhere you live and you still can earn money. You can use various websites to be a professional translator such as:
Some people do not have a second language and they need to translate their projects. So, they use these websites to find someone who can handle this work instead of them.
7. Online tutoring
If you see yourself as a professional in a specific subject, you can make money by teaching people online. Tutoring online gives the chance for all people to learn whenever they live and whatever their ages. They choose to learn online to enhance their knowledge.
These are examples of websites that you can sign up on to list the subjects you can teach, providing how much experience you have in each.
Most of the platforms are following the process when they require you to register with a form, after which a tutoring display will have to provide their specialists. Once chosen, profile creation and documentation will be completed, followed by coaching and inducement webinar. Once you attend the webinar, you will be listed as a teacher and will get your online lectures to administration. If you are a beginner, you can earn around Rs 200 per hour, and up to Rs 500 as you earn more skills and experience.
8. Social media management, strategy
Facebook, Instagram, Snapchat, Twitter, and other platforms can be used to make money besides interacting with your friends. Businesses pay for Social Media strategists because they don't always have enough time and knowledge on how to boost their existence there. It's very competitive to keep the name of one's brand up with all these companies doing the same thing. So, creativity is the key here to always get more viewers and engagement. Creative posts videos are required to enhance the value of the brand. Also, keep in mind that social media requires devoted energy and time to stay connected and relevant. So, you have to regularly share posts and be responsive to the followers on a daily basis.
9. Web designing
Business owners specialized do not always have enough knowledge of technology, but they always need to have a in technology-related stuff, especially websites, you can make money online by helping these business owners have their websites. Web designing and coding are the major elements you should have to set up a website. Also, websites need to be updated and maintained frequently, and that will make you earn more money.
10. Content writing
Social Media can be a great beginning. It depends on the type of articles, you will be paid. You might be required to work on articles with particular rules too. Evolve a specialization in your field of experience and create power in this area to grow the profit flow.
11. Blogging
Blogging usually starts with an interest, passion, or hobby. Then, it turns out to be a career for many people. So, there are many people who work as full-time bloggers. You can start your blog with two ways, wither to create it on Tumbler or WordPress, and this needs no money, or you can go for a self-hosted blog
If you will go for the second one, you have to spend some money on the name and server space. Another advantage of a self-hosted blog is that it permits you to design your elements and features of your site. In the case of using Tumblr or WordPress, you need to know the tools and plugins that the provider gives you.
You can make money online by your blog using ads, reviews, and more. However, keep in mind that making money from blogging will take a lot of time and energy. Some people wait almost a year to earn from their blogs.
12. YouTube
If you have the same energy to create a blog for your hobby or passion but cannot write what you want to deliver in words, you can get out your content ideas through videos. You can still make money online if you don't have a blog, your mobile camera is very useful to start a Youtube channel. Upload your videos, watch your views, and don't forget to be creative.
Choose the category or subject that you're comfortable making videos on, and start. However, always keep in mind that the topic is interesting for many people. Political debates, cooking, teaching, and so many topics are interesting for most people.
Your Youtube channel has to work as your personal blog. When the number of subscribers increases and gets more views, you may get payment from youtube.
13. Kindle eBook
If you're interested in writing a book, you can publish paperbacks and eBooks through Kindle Direct Publishing. It can reach thousands or millions of readers on Amazon. It takes about 5 minutes for your book to appear on Kindle stores all over the world in a day or two days maximum.
You can earn more than 70% of the sales to customers in the USA, Germany, France, Canada, UK, India, Italy, Spain, Brazil, Mexico, Japan, Australia, and more. You can stay in control of your rights and create your price list. Also, make updates and edits to your books whenever you want. Pblishing.com and BooksFundr are the other two websites to publish your book and make money online.
14. Selling your products online
You can create your own website if you want to sell your online products online. But keep in mind that there is a lot of competitors and many more current website selling similar things. You can also use other websites such as Flipkart or Amazon to display your products. Through this, you can increase your research and visibility that leads to more sales and consequently, more profit.
15. PTC sites
Some websites provide profit by clicking on ads (after a certain amount of earning). So, they are named paid-to-click (PTC) websites. You have to register prior to the beginning of the project. Not all websites could be real, so be cautious, they might be fake. You might also get your friends and make money in the procedure. Some of these websites are:
16. Peer to peer
Same as e-commerce websites like Amazon and OLX, a peer-to-peer (P2P) website is a marketplace for lending money. You can lend money to others in a more organized and structured manner using the P2P lending platform.
P2P has the retrieval method in place and you have to know it before utilizing its services. Because this is an unofficial loan where there is no face-to-face connection, a lender has to be careful of the possible risks included. Now, the benefit rate made would be from 13% to 30%.
17. Data entry
Though this field is really threatened by AI, still there are floods of data entry job vacancies in India. It's one of the easiest and simplest jobs you can do online and it also needs no particular experience or skill. All you need is a PC, Internet, typing ability and to be focused on details. A lot of freelancing sites have this job and you can start just by signing up to them for the easiest way to make money online.
Now you know almost all the ways, choose the way that you are more interested in and you're more qualified to. This is how to make money online, start your small business now!